Neapolitan World
Larger than a city, larger than life
It would be very lonely if you were the single person left in the world speaking your mother tongue.
This is nearly the case for some people in the world as hundreds of languages have only a few speakers left alive.
A language is considered moribund (destined to be dead in terms of linguistics) when there are no kids speaking left, which is the case for hundreds of languages.
And there's slightly a better category called endangered language. Even the languages we consider strong and indestructible are in fact, in the endangered category.
For example, although supported seriously by the autonomous government, Basque language has nearly no monoglot speakers (who speaks only one language fluently). Almost all Basque speakers are also fluent in Spanish. The popularity of the language fades continuously among generations and the outlook is not bright.
Once flourishing Yiddish language had millions of speakers around Europe and America. Before the World War 2, Yiddish was one of the key languages of Europe. Thousands of schools, and tens of universities were teaching in Yiddish, thousands of books were published, hundreds of Yiddish movies were produced.
After the genocide and the revival of the Hebrew language, Yiddish started to die. And it was all gone. Nowadays, no Jewish baby speaks it as its mother tongue, therefore the language is unfortunately moribund.
What Really is the Term 'Neapolitan'?
Most of us know something about Neapolitan songs, while knowing little about what really Neapolitan is. Is it a musical or a folkloric style, an Italian accent? In fact it's a separate language different from Italian in many ways, and a cultural identity strongly linked to the language.
In 2010, UNESCO declared that Neapolitan is a separate language not just a dialect of Italian. Wikipedia hosts a Neapolitan section that contains over 14,000 articles, which is larger than dozens of national languages. Some people even see it as the second official language of Italy.
Most Italians still think that Neapolitan is only a dialect, but I highly doubt that they could keep an intellectual conversation if their counterparts insist speaking only Neapolitan.
As an example, Turkish and Azerbaijani languages are very similar, we can recognize lots of words and understand the main theme of the conversation, and even survive the shopping. But it's unlikely to have a meaningful conversation even for a brief interval.
This situation indicates that the two languages are not mutually intelligible, and this is the main criteria that makes them two different languages, rather than dialects.
And as far as I see, the differences between Italian and Neapolitan languages are even more than this example. We can compare it with the differences between Spanish and Portuguese.
Today, there are around 5 million speakers of Neapolitan in the world, but nobody knows the exact figure and the percentage of fluent speakers. All Neapolitan speakers are also native speakers of another language (Italian in Italy, Spanish in Argentina).
Of course, the term Neapolitan refers to other elements of the culture as music, dance (Tarantella), food and customs. The language plays a central role for all the things we call Neapolitan.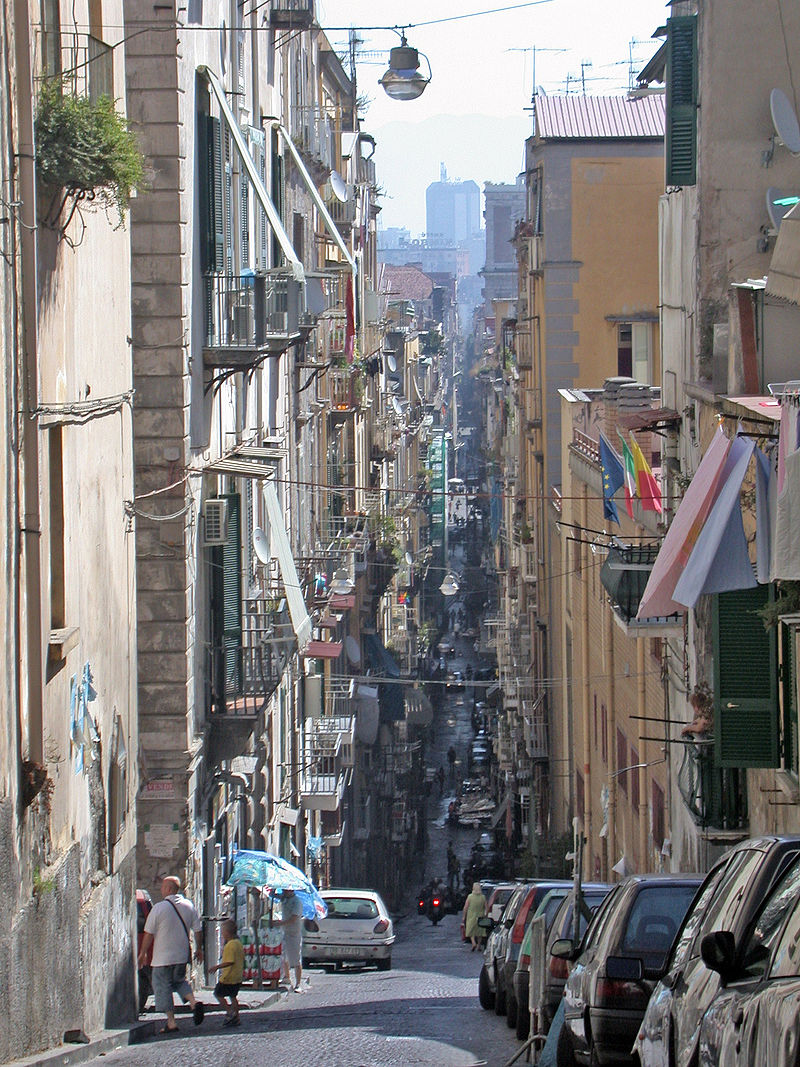 one of the arterial streets of the historic city centre and an iconic view that describes Naples
Neapolitan Songs
Obviously, the best known Neapolitan song is O Sole Mio which is performed by hundreds of musicians including Luciano Pavarotti and Enrico Caruso. I was also acquainted with the song for long, without knowing that it was in fact not in Italian; before my complete enlightenment after listening to the song: Guaglione, falling in love with it and making a thorough research on the subject.
When you listen to the song Guaglione, you'll notice that the music is quite familiar. It's an old song and used in many movies, sung in many occasions by various musicians.
Guaglione was the winning song of the Festival della Canzone Napoletana (Festival of Neapolitan Song) in 1956. Guaglione means boy in Neapolitan and it tells about a boy who hopelessly fell in love with an older woman. The woman tries to convince the boy to give up this love.
Do not dye it, do not stroke it
that thin mustache...
She's not for you, they do not suit you
those pretty eyes...
Do not think on it, go and play
with the girls...
don't be discouraged,
there is time to come,
for you to get in trouble!

... You keep on passing by this balcony
but you're only a kid...
you don't know women,
you're too young!
you're a kid!...
What do you have in mind?
go and play soccer...
What are these tears for? ...
Go away, don't make me laugh!
This Neapolitan music festival was held between years 1952 and 1971. Afterwards, there were various attempts to revive it; but the one which was held in 2004 was the last time.
The Neapolitan world still has fluent speakers, creative minds and hard working artists. But the people having these three combined, are not as many enough to populate a music festival.
This is a silent sigh of a dying of a language.
Simme Napule Paisa
Another fascinating Neapolitan song is Simme Napule Paisa (we are Neapolitan compatriots). The song is written in 1944, when Italy was about to be defeated by allied forces, and Naples was devastated by bombings and shortages of all kinds.
The composers of the song Peppino Fiorelli and Nicola Valente aimed to give some hope and life energy to the devastated city.
And they succeeded. The song is uplifting and bright, even if you don't understand the lyrics. And the lyrics extend this spirit beyond of course.
Here, I'll give some part of it in Neapolitan, Italian and English. You'll see how Neapolitan is different from Italian.
Neapolitan
Tarantella, facennoce 'e cunte,
nun vale cchiù a niente
'o ppassato a penzá.

Quanno nun ce stanno 'e tramme,
na carrozza è sempe pronta
n'ata a ll'angolo sta giá.

Caccia oje nénna 'o crespo giallo,
miette 'a vesta cchiù carella,
cu na rosa 'int''e capille,
saje che 'mmidia 'ncuoll' a me.

Tarantella, facènnoce 'e cunte,
nun vale cchiù a niente
'o ppeccomme e 'o ppecché.

Basta ca ce sta 'o sole,
ca c'è rimasto 'o mare,
na nénna a core a core,
na canzone pe' cantá.

Chi ha avuto, ha avuto, ha avuto,
chi ha dato, ha dato, ha dato,
scurdámmoce 'o ppassato,
simmo 'e Napule paisá!.
Italian
Tarantella, facendoci i conti,
non serve più a niente
pensare al passato.

Quando non ci sono i tram,
una carrozza è sempre pronta
un'altra all'angolo sta giá.

Prepara, o donna, lo scialle giallo,
indossa la veste più bella,
con una rosa tra i capelli,
vedrai che invidia per me.

Tarantella, facendoci i conti,
non serve più a niente
il come e il perché.

Basta che c'è il sole,
che c'è rimasto il mare,
una ragazza cuore a cuore,
una canzone da cantare.

Chi ha avuto, ha avuto, ha avuto,
chi ha dato, ha dato, ha dato,
dimentichiamoci il passato,
siamo di Napoli paesano
English
Tarantella, us crying over spilt milk
serves nothing anymore,
thinking about the past.

When there aren't any tramcars,
a bus is always available
there's another around the corner

Check out this, girl in a yellow scarf
wearing the loveliest dress,
with a rose on her hair
you can see jealousy all over me

Tarantella, us crying over spilt milk
serves nothing anymore,
the whys and the wherefores

As long as there is sun,
as there is sea left,
a girl after your own heart,
a song to sing.

Those who've taken, taken, taken...
Those who've given, given, given...
Let's forget about the past,
we're compatriots from Naples
Larger than a City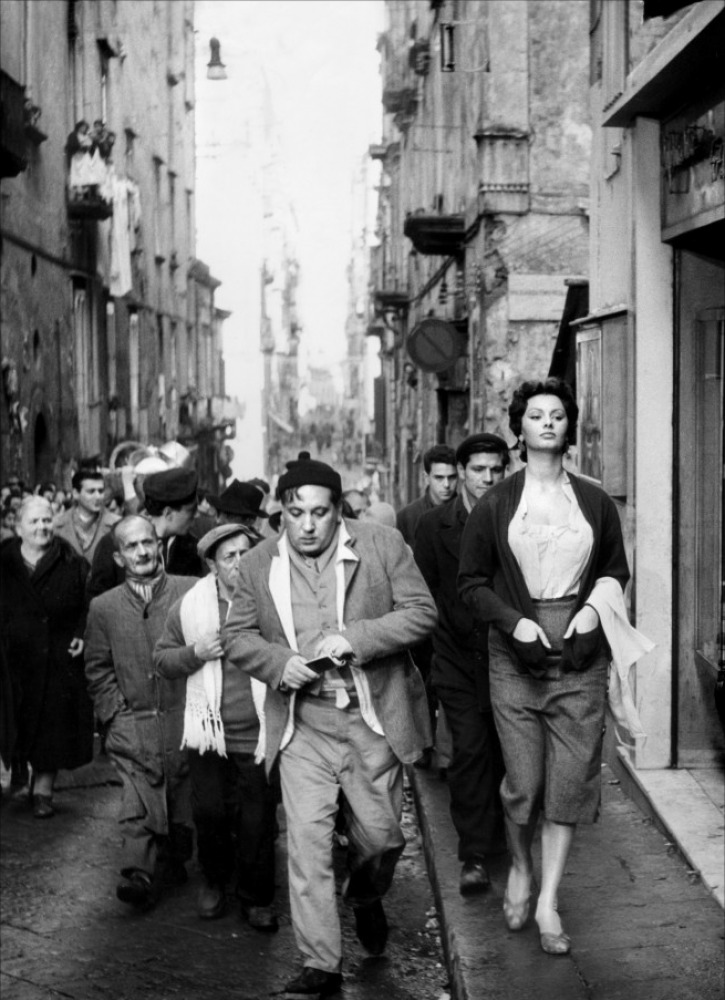 an influencial movie by Vittorio De Sica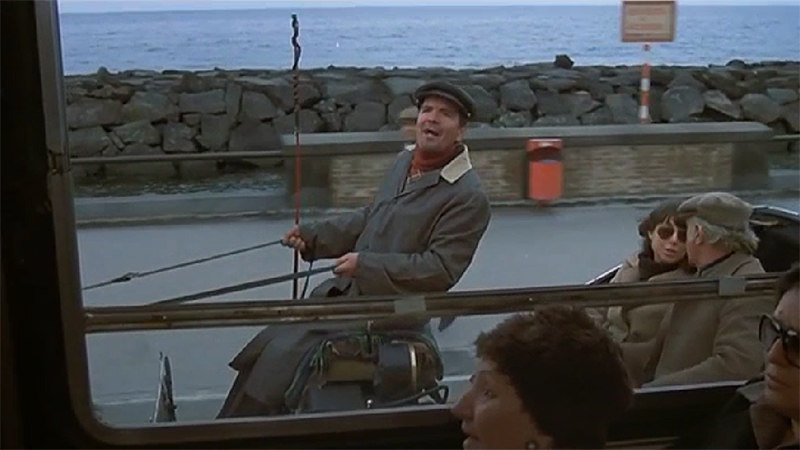 Bud Spencer talks to a horse cab driver with a heavy Neapolitan accent of Italian
Rather than a city, Naples is like an extraordinary country within Italy, which already is an extraordinary country. This makes this city and the region worldwide unique.
There are lots of writers, movie directors, actors, actresses, politicians, musicians who are proud of being Neapolitan and living the spirit to end.
The city's football club Napoli won only two Serie A championships but known worldwide. It may be argued that the fame comes from the legendary Argentinian star Maradona, but the whole decision to transfer him to Napoli and the magical relationship of the city with Maradona made up the legend. With another city, it won't be the same.
Bud Spencer (born Carlo Pedersoli) is especially famous for his movies with Terence Hill; from spaghetti westerns to slapstick comedies. He also made Piodone tetralogy (4 movies), in which he played the Inspector Rizzo character, a policeman serving in Naples. Also a Neapolitan himself, Bud Spencer easily portrays a typical Neapolitian in these movies.
In the movie Piedone in Africa, a man asks him "Are you Italian"; and he answers, "No I'm Neapolitan", which exactly is the mental approach of most Neapolitans to national identity. They don't want to be a separate country, they are absolutely devoted Italians, but they see themselves a little bit separate, or may be above the Italian nationality.
Apart from the Neapolitan language, the people of Naples speak a distinct accent of Italian which is also hard to understand even for the native Italian speakers. As his heavy Neapolitan accent was regarded unacceptable for the audience, Bud Spencer's voice was almost always dubbed by other people (mostly by Glauco Onorato). In the Piedone movies naturally, his own voice was used naturally fitting the character of a Neapolitan police officer.
There are dozens of movies depicting the unique lifestyle of this extraordinary city. Vittorio De Sica, the famous movie director whom you may recall from The Bicycle Thieves, shot the film Oro di Napoli (Gold of Naples) in 1954 as a tribute to his home town Naples.
You can check this large list of famous people from Naples : People from Naples (Wikipedia)
Future of Neapolitan
Apart from Italian, there are dozens of languages spoken in Italy. Some of them are mutually intelligible to some degree. The future for all these languages is unfortunately dark, as none of them has monoglot speakers and the major part of the young generation cannot speak these languages.
Of course, Neapolitan will be the last to die; just owing to the rebellious nature of the city and the solid cultural heritage created by the language. The young generation still can understand and speak the language to some degree and this means that the language may survive a couple of generations.
Also the large repertoire of Neapolitan songs and cultural background may help to survive it for longer than expected.
Italian is a very strong and influential language. If the minority languages are not protected against this powerful rival, they'll destined to be eliminated. There are no TV stations, newspapers in Neapolitan, and there are no mandatory classes for kids. The language does not even have an institute to outline the standards.
If these can be established within 20-30 years, there's hope for revival. Otherwise, Neapolitan will be a lost language, only to be remembered through these beautiful songs.
And it will be very sad.