For Hrant Dink
Our best hopes faded with you
When I heard the news, I was working in my office. Actually, I read it from an internet newspaper. I couldn't do anything for a while, then I continued to my ongoing work. Then I realized how foolish I am and trembled strongly. Unconsciously continuing to work was the after-shock behavior, I think.
Three years before, one of my best friends committed a suicide and died. This pain was very similar to what I felt when I heard that news.
What does Hrant Dink mean to me?
First of all, I know him personally. I don't know we were considered friends, bu I regard them as my friend and one of my role models.
After I published my old website "Armenians in Istanbul" (on now defunct Geocities), they invited me to make an interview. I then met personally with him.
From 1998 to 2000, I designed and maintained their web site. I went to Agos office countless times. On the balcony that the Agos staff looked crying to Hrant 's body, I remember smoking cigarettes cheerfully with the same staff.
We had a few opportunities to talk. He was one of the most friendly and honest people I met in my life. He inspired me lots of times during my life. His courage, his hard working, skill of leadership and positive attitude guided me through difficult situations in my life.
Agos Newspaper and Me
During this work with Agos, we became friends with Agos staff, and I regarded Hrant Dink as boss and as a brother like others working in Agos.
They invited me to their 3rd anniversary - I think, if I'm not mistaken. We went to Captain Restaurant in Harbiye. It was an unforgettable experience for me. With Turkish songs, Armenian songs we danced, drank and talked. At the middle of the night Hrant Dink started to call each name from the staff and presented his gratitude. And he called me and said :
"After we founded Agos, we have faced lots of troubles. But also we had enormous and magical help. One day, some kid came and said that I can design and maintain your web site. He did it for nothing, but our good wishes. Here's Bilgin, applaud him."
In my life, it's one of the few moments that I felt myself genuinely honored.
We also met in some other events, like boat trip in Bosporus. Unfortunately I did not see him nearly for 6 years, but I was watching eagerly what he was doing. I thought countless times to visit him again and tell my support. But I couldn't do it. This will be a regret for the rest of my life.
What will happen to Agos?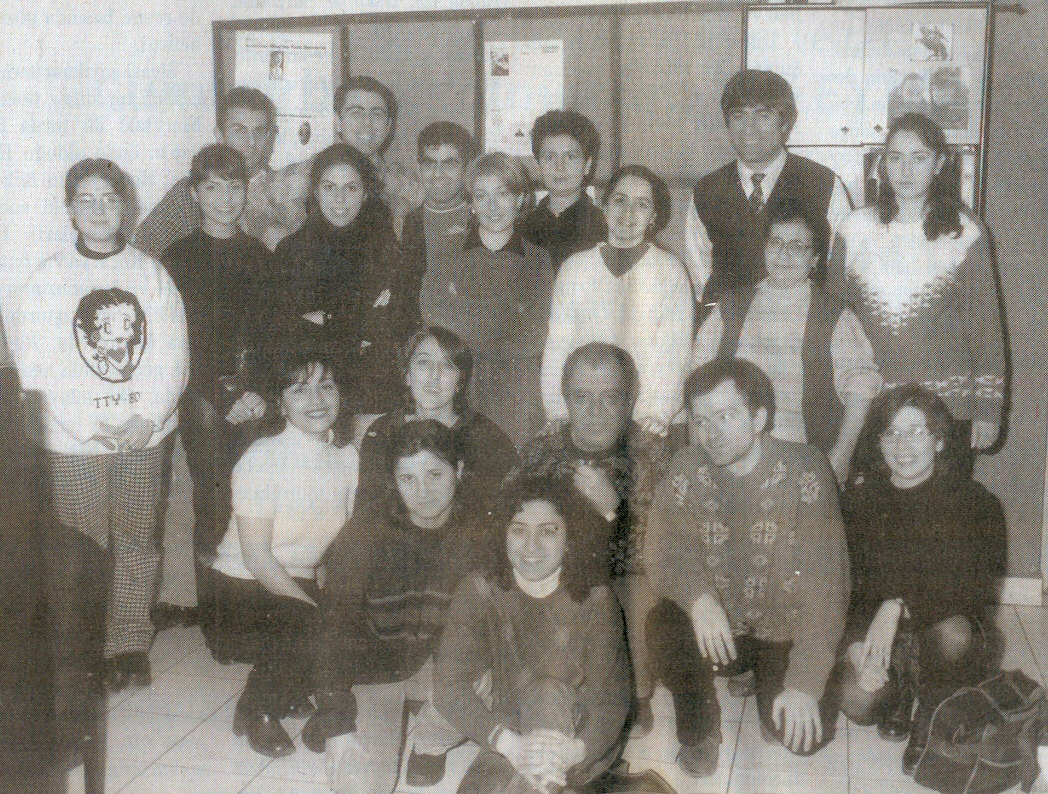 Hrant is the one second from the right of the last row standing
After I overcame the shock, I started to think about the future of Agos. As far as I know, Agos was everything for Hrant. And also, Hrant was most of Agos, if not everything. Thus, I'm very pessimistic about the future of Agos.
Also I'm pessimistic about the Armenian-Turkish relationships that happened to blossom a little bit, by the efforts of Hrant Dink. Who'll take over his mission? Especially after this event, I don't assume any Armenian in Turkey would dare to accomplish things like Hrant Dink.
To make things worst, It's obvious that, this event will trigger a new emigration wave in Armenian community. Can we blame them? Who can assure them a safe life here? Before Hrant, Armenians were a mere minority whose members were hiding themselves as much as possible. With Hrant and Agos, this small community started to vibrate with life a little bit.
With Hrant, my aspiration of "living in a multicultural city with Armenians" faded out. Hrant was the last hope, and he is gone forever.
Today, in the news, I see that the assassin of Hrant is captured. He's a 17 year old kid, who's head assumable is filled with hatred and prejudice. I don't know whether or not those who trained him will be found. But I don't care anymore. He is not alone. As I'm also teaching in universities, I know that the many young people think and behave like this murderer. Unfortunately Turkey became a country with people less tolerant, politically and historically illiterate. This is our someway our fault, and thus we have part in Hrant 's death.
And also, Hrant Dink gave enormous effort for Turkey's integration to European Union. He went to conferences in Europe to present his view. All his views were in harmony with the welfare of Turkish people. Who'll take over this mission?
Anyway, who cares?
You did your best to make this country and this world a better place. Now it's other people's turn to do something. But I should admit that, after you're not here anymore, I have no motivation. At least for now. I wished to write a more positive tribute, I now he wanted this way, but I couldn't.
"Güle güle Anadolu delikanlısı."
Notable Turkish Armenians

(1948-1996, full name Ohannes Tuncboyaciyan)
Famous composer and musician. He is the composer of many well known Turkish songs. For a long time, he worked with Sezen Aksu. He also represented Turkey in Eurovision song contest, a number of times.

(1904-1994, real name Nubar Alyanak)
Famous movie actor. He took part in more than 400 movies.

(1948, real name Silva Bursalioglu)
Popular singer and musician. She became famous in 1970s and sang many hit songs since then. She continues her career both as a singer and actress.
One of the leading physicists of Turkey. He's mostly referred as "genius" by his colleagues and students. He has many important articles especially on "Chaos Theory". Also he is well known for his passion for "ships".
Music
Asu Maralman, Garo Mafyan (composer), Hayko Cepkin (rock singer), Rober Hatemo, Hayko, Tatyos Efendi
Cinema & Theater
Nubar Terziyan, Turgut Özatay, Vahi Öz, Kenan Pars (Kirkor Cezveciyan), Sami Hazinses, Toto Karaca
Academic World
Avadis Hacınlıyan, Agop Dilacar
Art & Literature
Migirdic Margosyan, Karin Karakas, Sarkis Pacaci, Ara Guler (photographer), Pars Tuglaci, Sevan Nisanyan