Melek Kobra
Diaries of a young woman, lived in 1930s, died in her 25
How it feels to die when you're only 25?
When I'm writing this article, I'm thirty five. I imagine myself dying when I'm 25. To be buried with passions to be fulfilled, things to be done, a life to be lived.
Melek Kobra lived in 1930s' Istanbul. In a country transforming itself and integrating to modern world. She was also an important figure of this transformation.
She died of tuberculosis, and in her last three years, she began to write diaries. She was aware of her fate, but she kept writing it, to her very last days.
Her diaries were found in 2006, nearly seventy years after her death. Gokhan Akcura, one of the most brilliant achievers and writers in contemporary Turkey, wrote a book by compiling her diaries.
After I read the book, I was totally shattered.
Daughter of Muhlis Sabahattin, "King of Operettas"
She was born in 1915. Her father was Muhlis Sabahattin, who was one of the most famous musicians of his times. After composing series of successful operettas, he had been called king of operettas.
As her mother and father had been divorced while she was a child, she was living with her mother, only paying short visits to her father. In those visits, she was introduced to show business society of Istanbul.
While she was 15, she participated to beauty contest Miss Turkey. It was an extremely important thing, because these contests were very popular at those times.
She couldn't win, but the next year, her cousin won the competition. Her cousin's name was Keriman Halis. She also represented Turkey in Miss Globe in Belgium and became Turkey's first Miss Globe.
She was beautiful, but also was talented for theater and cinema.
Wife of Ferdi Tayfur, a Valentino Image in 1930s' Istanbul
Her short life was extraordinary for various reasons. In 1934, she married Ferdi Tayfur. In those years, Ferdi Tayfur was a Valentino image that most women in Istanbul admired. They met in her father's plays and they married short after.
Together they participated some theater plays in Anatolia. Also int the movie Milyon Avcilari (Million hunters) they played together. In IMDB, she is referred as Melek Tayfur (click for the link).
Ferdi Tayfur is a pioneer of "movie dubbing" in Turkey. For example he managed dubbing the original King Kong and gave voice to main character. He was so successful that no one yet exceeded his performance.
Those times, the theaters in Istanbul presented the movies in original language, without dubbing. The dubbing was deployed for the customers in Anatolia.
He also gave his voice to Laurel & Hardy films (both Laurel and Hardy). When I was a kid in 70s and the beginning in 80s, I was watching these old Laurel-Hardy movies and it was a great fun. I doubt I'd loved them so much, if they hadn't been dubbed by Ferdi Tayfur.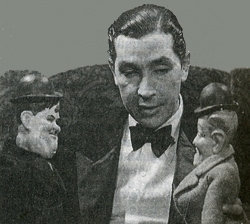 Ferdi Tayfur with puppets of Laurel & Hardy

He added his own style to the characters he dubbed. For Laurel & Hardy, he used a special accent for each of them, and it was simply funny.
Success and drugs
But Ferdi Tayfur was a drug addict, for a long time. After Melek married Ferdi, she was introduced to drugs.
Surprisingly, in 1930s' Istanbul, drug usage was very common in high society, even in middle class. There were factories producing heroine.
Also, those years, Istanbul was at the center of immense human traffic. For example, some Russian middle-class immigrants running away from the Russian Revolution stayed long years in Istanbul.
Their extravagant lifestyle influenced Istanbul's night life and habits.
Melek and Ferdi lived couple of years together in this fast life.
Using drugs was a deadly mistake for her. She couldn't cope with his husband's fast life and passion for drugs. After these years with Ferdi Tayfur, she felt tired and got tuberculosis.
Years in Cinema
She took part in two films. In 1930s, in Turkey one or two films were produced per year. So, taking part in two films was a great success for those years.
She became famous and the songs from those movies were recorded and sold in Istanbul. The recordings were also successful.
In 1933, she played in the movie "Soz bir Allah bir", with Hazim Kormukcu and Vasfi Riza Zobu, who are great legends in Turkish theater and cinema.
In 1934, nearly with the similar staff and Ferdi Tayfur in addition, she took part in "Milyon Avcilari". It was an adaptation of the movie "Sehnsucht 202".
Drugs and Finally Tuberculosis
She was very famous after the successful movie appearances but her true passion was theater.
She played in her father's operettas and also in some other theater groups in Istanbul. She also joined many theater organization outside Istanbul.
Finally, in 1936, she was accepted to "Dar-ul-bedai", which was the most prestigious theater organization of Istanbul (today, the same organization stands still with the name "City Theater of Istanbul"). She took part in several acts, including famous operettas.
In March 1937, Shakespeare's "King Lear" would be played for the first time in Turkey. She was playeing the role "Regan".
That night, in the middle of the act, she coughed blood from her mouth. It was obvious that she was tuberculosis, and at the advanced state of the disease.
Those times, people infected by tuberculosis preferred to hide their diseases, because of the possibility of isolation from society. Probably, she knew about her disease but she had hidden it.
But the night she played "Regan" in "King Lear" was her last day on the scene. The following years, till her death she lived completely a different life.
She moved to a country house, provided by an old businessman and she kept diaries of her last years.
Diaries
The diaries are kept in three different notebooks. She wrote most of all in Ottoman script, that is Turkish with Arabic-Persian alphabets. This script was used by Ottoman Empire during centuries and it's replaced by Latin alphabet in 1928 by Kemal Ataturk.
The diaries are dated after this alphabet revolution. But it seems that like most people, she felt more comfortable at writing with the traditional way. On some pages, she used the new alphabet, especially on the cover pages of the three notebooks. And on the dates for example. Also she wrote some French and German lyrics on some pages.
The 1st notebook start in 1936, while she lived in a country house. This notebook is rather joyful, because she was under doctor's control, she started a healthy life and quit drugs. She moves from the childish happy state to desperate moments. But generally she is hopeful for survival.
Generally her most important concern is her ex-husband Ferdi Tayfur. Although they were divorced, she loved Ferdi Tayfur till her last moments. But he did not respect her pain.
Ferdi Tayfur made his second marriage years after. He died in 1958.
Maybe he paid his karmic depth in most terrible way. In 1970s, a second class singer took over and used his name. Today, the young generation in Turkey only know about this second `Ferdi Tayfur`.
How the diaries were found?

Gokhan Akcura, rather accidentally discovered the diaries of Melek Kobra. He was in the process of writing a book on Muhlis Sabahattin. One day, while sitting in a cafe in Kadikoy with one of his friends, another man, listening to this dialogue, approached to Gokhan Akcura and told about the diaries of a theater actress.

This man was Cengiz Kahraman, a collector and bookshop owner in Kadikoy. He gave the diaries and photographs to Gokhan Akcura, for free.

Gokhan Akcura was very excited, because while he was writing a book about Muhlis Sabahatting, he was discovering the diaries of his daughter.

After reading the diaries, he didn't find the things he was looking for - the information and details on the life of her father. But he discovered another thing, these diaries were important at the first place and worth special interest. These were the diaries of a young woman lived in 1930s Istanbul and walking to death.

He consulted to his friends from different intellectual fields and decided to publish the diaries.

Gokhan Akcura is still in the process of writing a book about the king of operettas, Muhlis Sabahattin.
Last Days
The 2nd notebook starts at the hospital. She had a surgery in Cerrahpasa hospital and she continued to write at the hospital. The surgery was rather successful, but she started to realize that she could not survive the disease so the diaries becomes more desperate and her tone becomes darker.
She falls in love with her doctor, but also her love for Ferdi Tayfur stays fresh.
After two operations, she returns the country house and there starts her 3rd notebook. This last notebook is a diary of a young woman, walking boldly to her death.
On the last leaf of the diaries, she wrote : Today is "Seker Bayrami" (3 days Islamic holiday). On such days, I have more grudge over people. I'm stripped away from the world little by little. I feel alienated to the people in this world, and now I belong to the other world. Nothing I'm leaving behind is important enough to make me see the death as a frightful thing. I'm all freed from my ties.
She suffered from heart attacks caused by tuberculosis. After a couple of days she wrote the last diary leaf, she died in 1939 in German Hospital in Cihangir.
She's Gone, like a butterfly
Melek Kobra died in 1939, when she was 25. Sixty seven years passed over her death.
Then, why did her story struck me so much? Not just me of course. I've read a couple of reviews of the book and I share nearly the same feeling with these reviewers. Her story is striking.
First of all, I've discovered a woman, a key figure in a transforming country. Melek and the people of those times did lots of things to enable us our today's lifestyle.
Of course they followed their ambitions, their desires. From the point they left, others carried the flag to our times. Sometimes we take this for granted.
Now I believe that, in every movie made in Turkey, or in a single theater act., there's a little bit something from her. If she lived longer, she had much more to give.
Another striking thing is this; she lived her last days and also wrote to her diary the places I live.
She stayed in a country house in Camlica, used ships crossing Bosporus, went to Kadikoy, Pera. I am just "feeling different now" by learning such stories were lived in those places.
Now after I read her diaries, I feel like she is walking on the pavements of Kadikoy.
s
Istanbul in 1930s
Istanbul was a center for cultural and social life in Eastern Europe in 1930s. The city was a pot of different ethnic groups and civilizations. Societies with significant populations of Greeks, Armenians, Jews, Italians, French and Russians all lived together in those years.
This multicultural nature of the city continued till the late 50s. Here are some images from those years.